Manage Your Certificates The Easy Way
Save time and effort acquiring, deploying, and monitoring your HTTPS certificates.
Trusted at
Automated Certificate Issuance
SSL Certificates Without the Busy Work
Save time with SSLMate so you can focus on other work. SSLMate automates the repetitive process of generating a private key, submitting a CSR, validating the request, and assembling the correct certificate bundle.
Stop worrying about downtime from expired certificates. SSLMate automatically installs renewed certificates on your servers before the old ones expire, stopping costly outages before they happen.
$ sslmate buy www.example.com
Cert Spotter
Early Warning of Security and Availability Problems
Over 100 companies can issue certificates that vouch for your domain's identity - including companies you've never even heard of. Cert Spotter alerts you if they issue a certificate to an attacker, so you can stop them from impersonating your website and stealing your customers' data.
Expired certificates cause website outages which lead to lost business. Cert Spotter automatically detects your certificates using Certificate Transparency logs and alerts you about expiring certificates, so you can stop outages before they happen.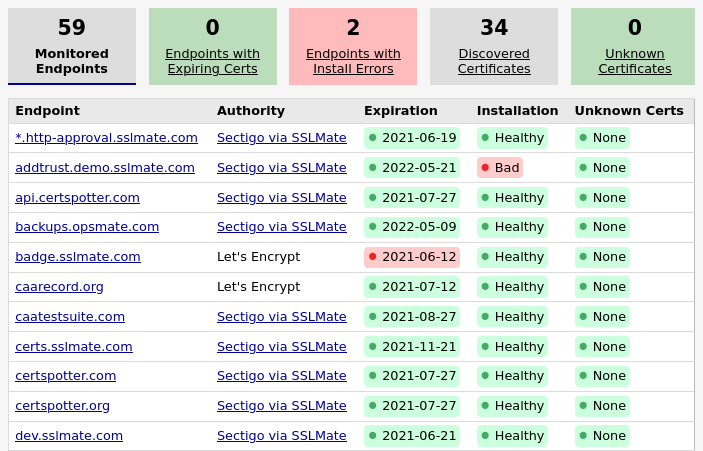 Loved by Customers
SSLMate is wonderful.
Thai Duong
, security researcher behind CRIME, BEAST, and POODLE.
Buying SSL certificates on the command line using SSLMate was the easiest thing ever. I had a working SSL certificate in 1 minute.
Sebastian Seilund
, CTO, Billy's Billing
I re-discovered SSLMate yesterday; it is the easiest way by far to purchase SSL certificates.
Dave Peck
, Co-founder, Cloak
Trusted by Experts
SSLMate founder Andrew Ayer has given invited talks at Apple and Google about Certificate Transparency monitoring. He is a trusted voice in the certificate community, and his security research has led to changes in the standards and policies for certificate issuance.
You can rest easy when you're an SSLMate customer knowing that your business-critical certificate infrastructure is in skilled hands. If you ever need help, Andrew will answer your email personally.